About Us
Charco's is a Peri Peri takeaway in Leeds. Why don't you try our Cheese Garlic Bread or Double Chicken Burger?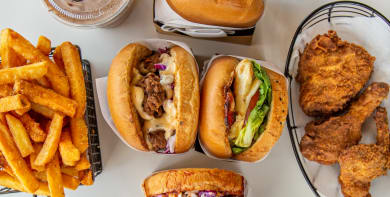 Reviews
94 reviews
Meryam
"Love charcos! One of my fav places in leeds - pitta is always fresh & so tender. 10/10 recommend"
17/01/2021
Leia
"Food was lovely, came on time will be ordering again 😊"
08/01/2021
Selim
"quality always excellent"
03/12/2020
Tom
"Had charcos before in the restaurant and was worried it wouldn't be as good delivered. It was just as good, still amazing, and the delivery was spot on."
20/11/2020
Menu
Double Chicken Burger - By Itself
Served in a freshly baked large multigrain sub with lettuce & Charco's piri mayo
£6.80
Jumbo Beef Burger - By Itself
Triple burger served in a freshly baked large multigrain sub
£4.50
Beanie Burger - By Itself
Served with tomato, lettuce & onion with Charco's burger sauce
£3.80
Chicken Thigh Burger - By Itself
Served with iceberg lettuce & Charco's piri mayo
£4.50
Chicken Burger - By Itself
Served in a freshly baked large multigrain sub with lettuce & Charco's piri mayo
£4.50
Veggie Burger - By Itself
Served with tomato, lettuce & onion with Charco's burger sauce
£3.80
Mushroom Burger - By Itself
Served with portobello mushroom, onions & halloumi cheese with Charco's burger sauce
£5.10
Jumbo Beef in Pitta - By Itself
Triple burger served with tomato, lettuce & onions
£4.50
Veggie in Pitta - By Itself
Served with tomato, lettuce & onion with Charco's burger sauce
£3.80
Chicken in Pitta - By Itself
Served with iceberg lettuce & Charco's piri mayo
£4.50
Chicken Thigh in Pitta - By Itself
Served with iceberg lettuce & Charco's burger sauce
£4.50
Beanie in Pitta - By Itself
Served with tomato, lettuce & onion with Charco's burger sauce
£3.80
Double Chicken in Pitta - By Itself
Served with iceberg lettuce & Charco's piri mayo
£6.90
Double Chicken Wrap - By Itself
Served with Charco's piri mayo
£6.90
Chicken Wrap - By Itself
Served with Charco's piri mayo
£4.50
Beanie Wrap - By Itself
Served with tomato, lettuce & onion with Charco's burger sauce
£3.80
Chicken Thigh Wrap - By Itself
Served with iceberg lettuce & Charco's piri mayo
£4.50
Veggie Wrap - By Itself
Served with tomato, lettuce & onion with Charco's burger sauce
£3.80
Jumbo Beef Wrap - By Itself
Triple burger served with tomato, lettuce & onions
£4.50
Portobello Burger
Fresh handmade beef burger, with portobello mushroom, melted American cheese, fresh tomato, lettuce, red onion & mayonnaise
£7.85
The Amigo Burger
Fresh handmade beef burger with crunchy tortillas, jalapeno pepper, melted American cheese, onions, fresh tomato, lettuce, chilli mayo & salsa sauce
£7.85
Ringo Burger Burger
Fresh handmade beef burger with onion rings, melted American cheese, fresh tomato, lettuce, red onions, mayonnaise & BBQ
£7.85
Route 66 Burger
Fresh handmade beef burger, stripes of bacon, melted American cheese, fresh tomato, lettuce, red onion & mayonnaise
£7.85
Portobello Burger - By Itself
Fresh handmade beef burger, with portobello mushroom, melted American cheese, fresh tomato, lettuce, red onion & mayonnaise
£6.25
Route 66 Burger - By Itself
Fresh handmade beef burger, stripes of bacon, melted American cheese, fresh tomato, lettuce, red onion & mayonnaise
£6.25
Ringo Burger Burger - By Itself
Fresh handmade beef burger with onion rings, melted American cheese, fresh tomato, lettuce, red onions, mayonnaise & BBQ
£6.25
The Amigo Burger - By Itself
Fresh handmade beef burger with crunchy tortillas, jalapeno pepper, melted American cheese, onions, fresh tomato, lettuce, chilli mayo & salsa sauce
£6.25
Chicken Breast Sandwich Burger
5 Flame Grilled Chicken Wings
Piri Piri Flavour Extra Hot
Piri Piri Flavour Lemon & Herb
Piri Piri Flavour Mango & Lime
Quarter Chicken - By Itself
£3.60
Chicken Wings (8 Pieces) - By Itself
£7.80
Chicken Wings (12 Pieces) - By Itself
£10.30
Chicken Wings (3 Pieces) - By Itself
£3.35
Chicken Wings (5 Pieces) - By Itself
£4.90
Ben & Jerry's Chocolate Cookie Dough - 500ml
Vanilla ice cream with gobs of chocolate chip cookie dough
£5.95
Ben & Jerry's Chocolate Fudge Brownie - 500ml
Chocolate ice cream with fudge brownies - the fabulously fudgy brownies in this flavour comes from New York's Greyston Bakery
£5.95
Chocolate Fudge Cake - Regular
£2.75
Ice Cream Vanilla 1 scoop
£1.45
Ice Cream Vanilla 3 scoops
£3.65
Ice Cream Strawberry 1 scoop
£1.45
Ice Cream Strawberry 3 scoops
£3.65
Ice Cream Chocolate 1 scoop
£1.45
Ice Cream Chocolate 3 scoops
£3.65
Toasted Roll
Multigrain sub
£1.20
Quarter Flame Grilled Chicken
£3.60
Regular Beef Burger
Single burger
£2.65
3 Flame Grilled Chicken Wings
£3.35
Cheese Garlic Bread Regular
£3.65
Mashed Potato
Smooth & creamy mashed potatoes
£2.35
Cheese Garlic Bread Large
£5.30
Corn On The Cob - Regular
£1.80
Kids Chicken Breast Burger
Chicken breast sandwich
£3.95
Lebanese Falafel - By Itself
Mixed leaf salad, hummus & ranch sauce
£6.20
Nacho Chicken - By Itself
Grilled chicken burger, tortilla chips, cheese, jalapenos, salsa & lettuce
£6.20
Double Chicken Breast Fillet - By Itself
£6.70
Buffalo Ranch Gourmet - By Itself
Grilled chicken breast, onions, lettuce, garlic sauce & ranch dressing
£6.20
Chicken Breast Fillet - By Itself
£4.40
Chicken Strips - By Itself
Served with warm pitta, onions & mushrooms
£4.40
Chicken Thighs (3 Pieces) - By Itself
Served with warm pitta, onions & mushrooms
£4.50
Piri Piri Dip Deviled (Hot)
£0.60
Piri Piri Dip Flamed (Medium)
£0.60
Piri Piri Dip Inferno (Extra Hot)
£0.60
Piri Piri Dip Lemon & Herb
£0.60
Piri Piri Dip Mango & Lime
£0.60
Nachos
With salsa & cheese
£3.90
Piri Piri Bites (Portion)
Coated in breadcrumbs with red piri piri jalapenos stuffed with soft cheese
£3.55
Hummus with Piri Chilli Drizzle Pitta Bread
Served with piri chilli drizzle & a toasted roll OR pitta bread
£3.15
Hummus with Piri Chilli Drizzle Toasted Roll
Served with piri chilli drizzle & a toasted roll OR pitta bread
£3.15
Spicy Olives
Look out for stones as some may remain
£3.50
Red Pepper Dip
With warm pitta bread
£2.95
Wings Roulette
12 Wings in a variety of piri piri flavours
£9.95
Chicken Piri Piri Nachos
With chicken, salsa & cheese
£5.45
Halloumi Sticks & Chilli Jam (3)
£2.95
Halloumi Sticks & Chilli Jam (5)
£4.95
Falafel Salad
Mixed leaves, cherry tomatoes, mixed peppers topped with falafel & hummus
£4.95
Charco's Chicken Salad
Mixed leaves, cherry tomatoes & mixed peppers topped with flame grilled breast of chicken & Charco's special dressing
£4.95
Mixed Salad
All of the above without the chicken
£3.30
Mediterranean Chicken Salad
Charco's chicken salad, feta style cheese & mixed olives
£5.95
Mediterranean Salad
Feta style cheese & mixed olives
£4.40
Contact Us
Find Us
162A Woodhouse Lane, Leeds, LS29AH
We deliver to
LS1, LS10, LS11, LS12, LS16, LS17, LS2, LS3, LS4, LS5, LS6, LS7, LS8, LS9