About Us
Charco's is a Peri Peri takeaway in Leeds. Why don't you try our Cheese Garlic Bread or Double Chicken Burger?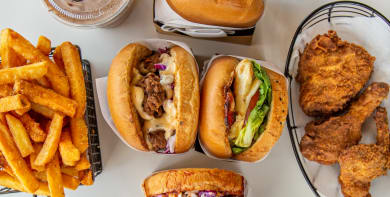 Reviews
83 reviews
Laura
"Beautiful"
26/02/2021
Nick
"Oustanding as usual"
19/02/2021
Meryam
"Love charcos! One of my fav places in leeds - pitta is always fresh & so tender. 10/10 recommend"
17/01/2021
Leia
"Food was lovely, came on time will be ordering again 😊"
08/01/2021
Menu
Double Chicken Burger - By Itself
Served in a freshly baked large multigrain sub with lettuce & Charco's piri mayo
£6.80
Jumbo Beef Burger - By Itself
Triple burger served in a freshly baked large multigrain sub
£4.50
Beanie Burger - By Itself
Served with tomato, lettuce & onion with Charco's burger sauce
£3.80
Chicken Thigh Burger - By Itself
Served with iceberg lettuce & Charco's piri mayo
£4.50
Chicken Burger - By Itself
Served in a freshly baked large multigrain sub with lettuce & Charco's piri mayo
£4.50
Veggie Burger - By Itself
Served with tomato, lettuce & onion with Charco's burger sauce
£3.80
Mushroom Burger - By Itself
Served with portobello mushroom, onions & halloumi cheese with Charco's burger sauce
£5.10
Jumbo Beef in Pitta - By Itself
Triple burger served with tomato, lettuce & onions
£4.50
Veggie in Pitta - By Itself
Served with tomato, lettuce & onion with Charco's burger sauce
£3.80
Chicken in Pitta - By Itself
Served with iceberg lettuce & Charco's piri mayo
£4.50
Chicken Thigh in Pitta - By Itself
Served with iceberg lettuce & Charco's burger sauce
£4.50
Beanie in Pitta - By Itself
Served with tomato, lettuce & onion with Charco's burger sauce
£3.80
Double Chicken in Pitta - By Itself
Served with iceberg lettuce & Charco's piri mayo
£6.90
Double Chicken Wrap - By Itself
Served with Charco's piri mayo
£6.90
Chicken Wrap - By Itself
Served with Charco's piri mayo
£4.50
Beanie Wrap - By Itself
Served with tomato, lettuce & onion with Charco's burger sauce
£3.80
Chicken Thigh Wrap - By Itself
Served with iceberg lettuce & Charco's piri mayo
£4.50
Veggie Wrap - By Itself
Served with tomato, lettuce & onion with Charco's burger sauce
£3.80
Jumbo Beef Wrap - By Itself
Triple burger served with tomato, lettuce & onions
£4.50
Portobello Burger
Fresh handmade beef burger, with portobello mushroom, melted American cheese, fresh tomato, lettuce, red onion & mayonnaise
£7.85
The Amigo Burger
Fresh handmade beef burger with crunchy tortillas, jalapeno pepper, melted American cheese, onions, fresh tomato, lettuce, chilli mayo & salsa sauce
£7.85
Ringo Burger Burger
Fresh handmade beef burger with onion rings, melted American cheese, fresh tomato, lettuce, red onions, mayonnaise & BBQ
£7.85
Route 66 Burger
Fresh handmade beef burger, stripes of bacon, melted American cheese, fresh tomato, lettuce, red onion & mayonnaise
£7.85
Portobello Burger - By Itself
Fresh handmade beef burger, with portobello mushroom, melted American cheese, fresh tomato, lettuce, red onion & mayonnaise
£6.25
Route 66 Burger - By Itself
Fresh handmade beef burger, stripes of bacon, melted American cheese, fresh tomato, lettuce, red onion & mayonnaise
£6.25
Ringo Burger Burger - By Itself
Fresh handmade beef burger with onion rings, melted American cheese, fresh tomato, lettuce, red onions, mayonnaise & BBQ
£6.25
The Amigo Burger - By Itself
Fresh handmade beef burger with crunchy tortillas, jalapeno pepper, melted American cheese, onions, fresh tomato, lettuce, chilli mayo & salsa sauce
£6.25
Chicken Breast Sandwich Burger
5 Flame Grilled Chicken Wings
Piri Piri Flavour Extra Hot
Piri Piri Flavour Lemon & Herb
Piri Piri Flavour Mango & Lime
Quarter Chicken - By Itself
£3.60
Chicken Wings (8 Pieces) - By Itself
£7.80
Chicken Wings (12 Pieces) - By Itself
£10.30
Chicken Wings (3 Pieces) - By Itself
£3.35
Chicken Wings (5 Pieces) - By Itself
£4.90
Ben & Jerry's Chocolate Cookie Dough - 500ml
Vanilla ice cream with gobs of chocolate chip cookie dough
£5.95
Ben & Jerry's Chocolate Fudge Brownie - 500ml
Chocolate ice cream with fudge brownies - the fabulously fudgy brownies in this flavour comes from New York's Greyston Bakery
£5.95
Chocolate Fudge Cake - Regular
£2.75
Ice Cream Vanilla 1 scoop
£1.45
Ice Cream Vanilla 3 scoops
£3.65
Ice Cream Strawberry 1 scoop
£1.45
Ice Cream Strawberry 3 scoops
£3.65
Ice Cream Chocolate 1 scoop
£1.45
Ice Cream Chocolate 3 scoops
£3.65
Toasted Roll
Multigrain sub
£1.20
Quarter Flame Grilled Chicken
£3.60
Regular Beef Burger
Single burger
£2.65
3 Flame Grilled Chicken Wings
£3.35
Cheese Garlic Bread Regular
£3.65
Mashed Potato
Smooth & creamy mashed potatoes
£2.35
Cheese Garlic Bread Large
£5.30
Corn On The Cob - Regular
£1.80
Kids Chicken Breast Burger
Chicken breast sandwich
£3.95
Lebanese Falafel - By Itself
Mixed leaf salad, hummus & ranch sauce
£6.20
Nacho Chicken - By Itself
Grilled chicken burger, tortilla chips, cheese, jalapenos, salsa & lettuce
£6.20
Double Chicken Breast Fillet - By Itself
£6.70
Buffalo Ranch Gourmet - By Itself
Grilled chicken breast, onions, lettuce, garlic sauce & ranch dressing
£6.20
Chicken Breast Fillet - By Itself
£4.40
Chicken Strips - By Itself
Served with warm pitta, onions & mushrooms
£4.40
Chicken Thighs (3 Pieces) - By Itself
Served with warm pitta, onions & mushrooms
£4.50
Piri Piri Dip Deviled (Hot)
£0.60
Piri Piri Dip Flamed (Medium)
£0.60
Piri Piri Dip Inferno (Extra Hot)
£0.60
Piri Piri Dip Lemon & Herb
£0.60
Piri Piri Dip Mango & Lime
£0.60
Nachos
With salsa & cheese
£3.90
Piri Piri Bites (Portion)
Coated in breadcrumbs with red piri piri jalapenos stuffed with soft cheese
£3.55
Hummus with Piri Chilli Drizzle Pitta Bread
Served with piri chilli drizzle & a toasted roll OR pitta bread
£3.15
Hummus with Piri Chilli Drizzle Toasted Roll
Served with piri chilli drizzle & a toasted roll OR pitta bread
£3.15
Spicy Olives
Look out for stones as some may remain
£3.50
Red Pepper Dip
With warm pitta bread
£2.95
Wings Roulette
12 Wings in a variety of piri piri flavours
£9.95
Chicken Piri Piri Nachos
With chicken, salsa & cheese
£5.45
Halloumi Sticks & Chilli Jam (3)
£2.95
Halloumi Sticks & Chilli Jam (5)
£4.95
Falafel Salad
Mixed leaves, cherry tomatoes, mixed peppers topped with falafel & hummus
£4.95
Charco's Chicken Salad
Mixed leaves, cherry tomatoes & mixed peppers topped with flame grilled breast of chicken & Charco's special dressing
£4.95
Mixed Salad
All of the above without the chicken
£3.30
Mediterranean Chicken Salad
Charco's chicken salad, feta style cheese & mixed olives
£5.95
Mediterranean Salad
Feta style cheese & mixed olives
£4.40
Contact Us
Find Us
162A Woodhouse Lane, Leeds, LS29AH
We deliver to
LS1, LS10, LS11, LS12, LS16, LS17, LS2, LS3, LS4, LS5, LS6, LS7, LS8, LS9